---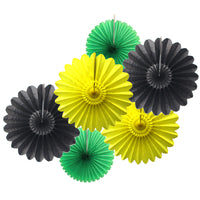 6-Piece Jamaican Tissue Paper Fans - 13 & 18 Inch
Our Jamaican themed tissue paper fans are perfect for creating your party backdrop! This set includes six fans:
Two 18 inch black fans
Two 18 inch yellow fans
Two 13 inch dark green fans
The fans ship flat and come with an attached hanging string. They are double-sided and can hang along a wall, in a window, or from the ceiling. Made to last with high quality tissue paper. Simply fold down after your party and store flat until the next event!

This set is also available as a pack of 3 fans. 
Made in the USA by Devra Party.

All decorations are made in the USA with high quality honeycomb tissue paper
Each piece comes with an attached hanging string or tab
All 3-D honeycombs come with attached double-tape 
All items ship and store flat
Reusable - for balls, diamonds, ornaments, fruit, etc. use paper clips instead of the double-tape to secure them (paper clips not included). 
Please note:
Tissue paper is sensitive to strong light and will fade over time in direct sunlight.  For extended window displays, you may want to turn the decorations around after a few weeks so that the faded side is less visible.
Unfortunately, tissue paper is not waterproof! Some colors may bleed when wet, so please be aware if you choose to hang the decorations outside.
We do our best to create quality photos that accurately portray the color of our products. However, the color will vary slightly between devices, screens, and even browsers.
Please pay close attention to the size description on each page. If you are not sure about the right size for your display, please contact us - we are more than happy to help!
Secondary photos are intended to demonstrate decorating tips and ideas.  Product contents are described in the title and description.